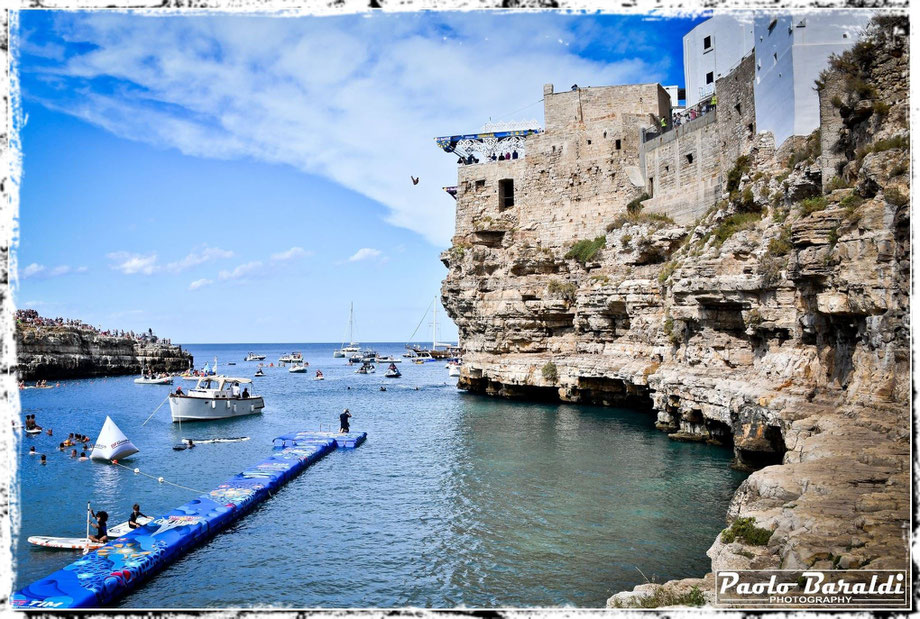 Summer in the beautiful Apulian town of Polignano a Mare cannot be complete without the passage of the Red Bull Cliff Diving World Series, this year scheduled for the weekend of 17-18 September. In the previous 9 stages in 11 years, the spectacle offered to tourists and citizens has never been lacking, who have gathered in tens of thousands each time, filling every possible space on the beach and on the cliffs placed in front of the platforms. Moreover, platforms located in a unique place: the balcony of a private citizen. An element that makes this stage one of the most evocative and original, and not only for the splendid location that hosts it.
The summer of the iconic city of Polignano a Mare, in Puglia , now rhymes with the Red Bull Cliff Diving World Series. The competition, among the most extreme and exciting in the world, in its 14 years of life has passed through these parts 9 times, thus making the Apulian town the European home of the discipline.
What makes Polignano a Mare unique is the fact that the citizens' homes are one with the cliffs: they almost seem to emerge directly from the clear waters of the Adriatic, thus giving all spectators and each of the athletes an unforgettable scenario. Waiting for the talented high-divers there will again be platforms at 27 and 21 meters high, positioned - as has become tradition - directly on a citizen's terrace. Thousands and thousands of spectators of all ages are preparing to experience unforgettable emotions, captivated by the epic dives of cliff divers and attracted by the culinary wonders of the place, from mozzarella to ice cream, passing through delicious raw fish.
Polignano a Mare, the place that gave birth to Domenico Modugno - author and interpreter of the famous "Volare" - is in the province of Bari, in Puglia, and has just over 16,000 inhabitants. The spectacular coast of the region extends for over 750 km, and the capital, Bari, is the custodian of museums, churches, monuments and a Swabian castle, as well as being equipped with modern facilities such as an international airport, a tourist and industrial port and high-speed rail links.
The extremely pleasant climate makes this region the ideal place to engage in sports and outdoor activities all year round: there are in fact hiking trails, cycle paths, riding stables, golf courses, swimming pools, and beaches equipped for windsurfing, kite surfing and navigation, the flagship of Puglia's tourist and sports offer.